As a sports car, the Maserati GranTurismo speaks to us on a personal level. Some brands design their cars with pure power in mind. Others emphasize elegance and finery. Maserati prefers to do both of those and then make the whole car smarter.
The breadth of technology that goes into building a GranTurismo is nothing short of astonishing. Let's take a look at just a few examples of how Maserati's engineers have made good on 100 years of innovation.
4.7-liter V8 Engine
This is not an ordinary V8 engine. This is a rich tradition that represents 454 horsepower, and the driver is given total control. The GranTurismo features special valves in its exhaust system that will make it easier for the engine to breathe when Sport mode is activated. You need only push the button to unlock the GT's full potential.
The tappets and camshaft lobes on this engine also have Diamond-Like Coating, another Maserati engineering solution that greatly cuts down on friction for smooth delivery of power and torque.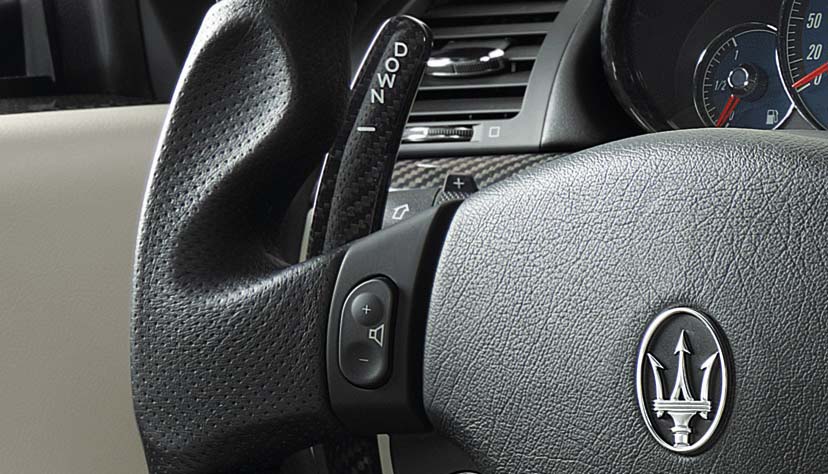 MC Auto Shift
The GT is equipped with a ZF 6-speed automatic gearbox and a hydraulic torque converter. Right away, that explains the precise, measured shifts you get when driving this car. This transmission is governed by Maserati's elite software, featuring rev limiter override, a high-performance start function, and double declutch ability. It also features five driving modes, including Auto Normal, Auto Sport, Manual Normal, Manual Sport, and I.C.E. (Improved Control and Efficiency).
The gearbox is mounted directly behind the engine, so when you drive a GT, you're also benefitting from an impeccably balanced vehicle. The engineers were able to achieve a 49% front to 51% rear weight ratio. What does that mean? It means the handling on this car borders on perfection.
Sport Skyhook System
Finally, the Sport Skyhook Electronic Control System was specially developed for the GranTurismo. It's a double wishbone suspension that continuously adapts to the terrain, further improving the handling, traction, and responsiveness of this machine. When you take to the road with Skyhook, you'll have to wonder if you're driving the GT, or if the GT is driving you.
Remember that this is the last year you can get a new Maserati GT. After this, it will go into hibernation while the Alfieri goes into production. Don't miss your chance to drive away in the most immaculate sports cars available. Call or visit us today at Maserati of Raleigh if you're interested in a test drive.
Maserati GranTurismo Sports Incredible Technology
was last modified:
July 1st, 2015
by