The 2014 FIFA World Cup tournament concluded yesterday with an intense 1-0 victory as Germany won its fourth soccer championship. This 2014 win, however, was the first for a reunified German team; victories of years past are technically attributed to West Germany. Its previous World Cup Trophy wins include the following years:
1954 – defeated Hungary 3-2
1974 – defeated the Netherlands 2-1
1990 – defeated Argentina 1-0
This rivalry between Germany and Argentina has become an interesting note of FIFA history. Though the German nation now boasts two victories (1990, 2014), Argentina defeated Germany in 1986 by a score of 3-2. Now we wait until 2018 to see if Argentina gets a chance at redemption. FIFA's 2014 World Cup may have concluded, but its effects will last quite a while. Tim Howard's performance has energized an American fan base, Germany now has four championships, and Twitter nearly exploded with 618,725 tweets per minute during one point of the final round matchup.
It should come as no surprise that the FIFA World Cup and Maserati have much in common. They both display the best of their respective industries; champion speed, agility, and power; and boast a rich, storied history that spans decades. While the Italian automaker celebrates its centenary this year, FIFA will mark its 100th anniversary during the 2030 tournament – how apropos if it were hosted in Italy.
Being a premier player in the world's most popular sport, soccer's elite likely enjoy only the finest things in life. That is why we are not surprised Lionel Messi, the Argentinean forward, purchased a Maserati GranTurismo MC Stradale. This 4.7-liter V8 cranks out 450 horsepower – enough power for any athlete.
Remember: Lionel Messi is in the picture provided. We realize that your gaze will naturally fall upon the GT MC Stradale, not that we can blame you for that. Italy's Mario Balotelli also deserves a shout-out for also owning a Maserati GranTurismo MC Stradale. Is it just us or do these soccer players have really good taste?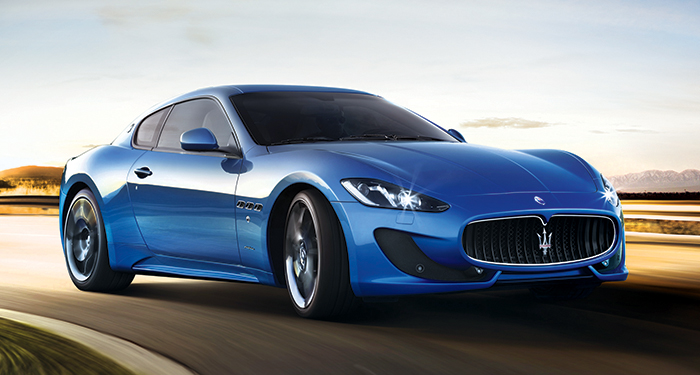 The Maserati GranTurismo / World Cup Connection
was last modified:
May 22nd, 2015
by